Like millions of Yankees fans who grew up in the late 1980s and into the 1990s, Don Mattingly was my hero. He was my favorite baseball player, and someone I truly idolized. Unfortunately, Mattingly's relationship with the Yankees wasn't as strong as my devotion to him as a little fan. On one day during the summer of 1991, tensions between the two sides reached an all-time high, and Mattingly's flowing follicles were at the crux of the matter.
As they do today, the Yankees had their anti-long hair team policy in place back in 1991. Although he was easily the team's best player, and its most highly paid, even the great Don Mattingly was subject to this team rule. In August of that season, GM Gene "Stick" Michael (George Steinbrenner was serving his two-year ban at this point) called his captain to the principal's office and let him know that, in no uncertain terms, it was time for the hair to go. Mattingly refused and was benched benched, and a hairstyle standoff of epic proportions was on.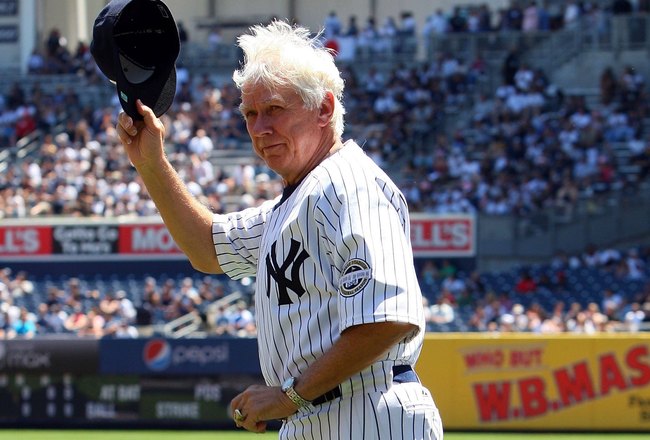 In order to truly understand why this was such a big deal, we need to take a deeper look into the Yankee captain's contentious relationship with the Steinbrenner regime. If you believe the rumors, Mattingly was nearly shipped out of town three years earlier. In August of 1988, Mattingly heavily criticized Yankees ownership after a tough loss to the Seattle Mariners. While talking to reporters after the game, the native of Evansville, Indiana exploded, and the damning accusations against George and the front office flowed like lava. Said Mattingly:
"There are definitely a lot of unhappy players here. You come here and play, and they give you money but no respect. That's it. That's as far as it goes. They think that's respect. Call us babies, call us whatever you want. If you don't treat me with respect, I don't want to work for you."

"It's hard to come to the ball park when you're not happy playing. I haven't had any fun. This is the first season that I've had to come out and push myself to play. I've been here since 1983, but things haven't changed."

"That's why nobody wants to play here. It should be great coming here with another club. Wouldn't it be great to come here and read about guys getting dogged? Players love coming here and seeing that stuff."
Yikes. Tell us how you really feel, Donnie. Despite reports that the Giants and Cardinals were interested (the Giants allegedly offered their first baseman Will Clark, a starter and a reliever), Mattingly didn't get traded that offseason. He also didn't get traded in 1989 or 1990. In 1991, with the Twins in town one weekend in June, Mattingly asked the Yankees for a trade again. Despite Steinbrenner not being around, the Yankees "five-year plan" wasn't going to develop fast enough to get the captain the ring he so desperately coveted. Mattingly respected the Twins organization and wanted to play for Minnesota. In the end, nothing happened. Don stayed on the Yankees, and the Twins went on to win the World Series without him.
Now, let's get back to the hair. Just a couple of months after that Minnesota trade ask, it seemed that Mattingly was still no happier under GM Gene Michael and temporary managing general partner Robert Nederlander than he had been under Steinbrenner. After Michaels basically ordered manager Stump Merril to bench the first baseman if he refused to cut his hair (Michael says he didn't directly order the suspension), Mattingly went off again after the game. He said:
"Maybe I don't belong in the organization anymore. I talked to him about moving me earlier in the year. He said we'll talk at the end of the year. Maybe this is their way of saying we don't need you anymore."

"It's kind of silly to me, but we're not winning and this is Stick's club. He wants an organization that will be puppets for him and do what he wants."

"It's pretty clear where everything comes from. If Stick wants the players to do exactly what he says, then he should be the pitching coach, batting coach and fielding coach. Then come down here and be a part of it. But take part of the blame, too."
Oof. Don't hold back, Donnie! Michael denied wanting to trade Mattingly, but the Yankees first baseman said he would "ask nicely" for a trade again. The next day, Mattingly was back in the lineup, and his hair was still untrimmed. Mattingly got a cut a couple of weeks later (barely), but the hair remained an issue for the rest of the season (the photo above was taken almost three weeks later, and his hair still looks pretty long to me). The whole thing became such news that it was even spoofed on The Simpsons, which you can see in the video below:
Mattingly wasn't traded that offseason either, and played the remainder of his days in pinstripes. He even got a taste of the post season in 1995 (the Yankees were on their way, and one of the favorites to win it all, in 1994 before the players' strike ended the season in August), and his home run in Game 2 of the ALDS against the Mariners remains one of my favorite Yankees moments. Sadly, Mattingly retired after that 1995 season, and the Yankees won it all the very next year… at least he could finally grow his hair as long as he wanted to.