[dropcap]T[/dropcap]here's really not much to say about this game, so I'll keep it brief. The Seattle Seahawks had this game won. All they had to do was give the ball to the best running back in the league from a couple of yards out, and they would have won their second consecutive Super Bowl. Instead of going to Marshawn Lynch, however, Pete Carroll made one of the worst calls I've ever seen – possibly the worst, given the circumstances – and Russell Wilson threw a goal line interception. Just like that, the Patriots were world champs again.
I mean… seriously. Why on earth would you ever throw the ball in that situation? Especially after the ridiculous catch by Jermaine Kearse (are you kidding me with the Patriots and allowing absurd catches late in Super Bowl fourth quarters?)! Look, I'm not taking anything away from what the Patriots accomplished. Tom Brady drove his team down the field and overcame a 10 point deficit late in the game. He did his job, and he did it well, proving that he is one of the best Quarterbacks of all time. I also don't want to take anything away from Malcolm Butler, who made that huge interception on the goal line. That's a huge play. He took a gamble by going after the ball, and it paid off wondefully for him and his team.
I find it hard to even take away from Russell Wilson, who threw that interception. He shouldn't have been throwing that ball… ever. Carroll said that the play was designed to stop the clock (if the pass had been incomplete). There were about 30 seconds to go in the game, so the Seahawks would still have had some chances to run the ball in. In fact, Carroll said that he would have run on third down. The fact that Carroll said all that shows me that he completely overthought the situation, and the mistake was all his. Fans, and even his own players, should be pointing their fingers squarely at Carroll here. Terrible.
As a noted Patriots hater, I should have been mad at the end of that game. Over the last ten years or so, one of the biggest joys of every season has been seeing the Patriots lose in the playoffs, especially when it was my Giants doing the eliminating. This year, I don't feel any anger or sadness at the fact that the Patriots won, and it's because I'm still dumbfounded by that play call. Seattle deserved to lose that game for being so stupid. If I were the Seattle D, I would have been fighting Pete Carroll, and not the Patriots, at the end of the game. Richard Sherman's face said it best, so i'll just leave it here. Unbelievable.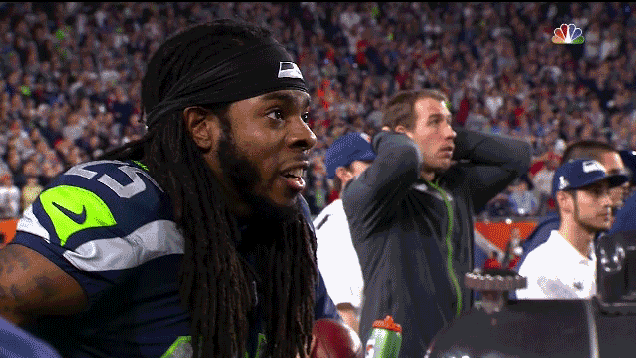 Featured image courtesy of: Getty Images